The ways in which we landscape our yards has undergone a dramatic shift in the last several years, for a variety of reasons.  Many homeowners simply don't have the time any longer to devote to maintaining a yard the way they have done in the past.  Tighter water restrictions have made it more difficult and expensive to maintain an expansive lawn, and the necessary bans of various chemicals and pesticides have created new challenges in keeping a variety of plants free from encroaching insects and other snacking predators.  As a result, homeowners have begun to reconsider the ways in which they design their yards and gardens.  These are a few of our favorite landscaping trends for drier climates…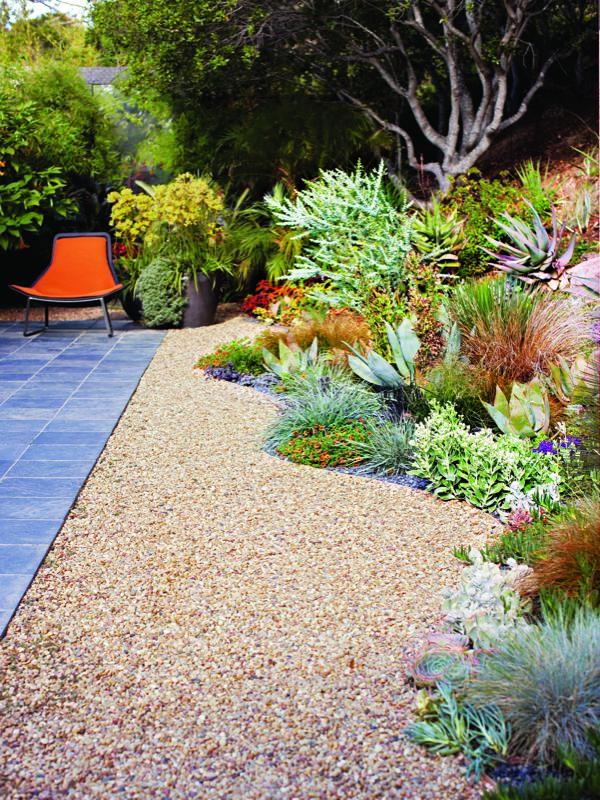 Xeriscaping, for example, is a term that was unfamiliar to nearly everybody twenty years ago, but nowadays most people at least understand that it refers to gardening/landscaping that drastically reduces or even eliminates the need for supplemental irrigation and watering. Xeriscaping, or smartscaping as it is sometimes also called, makes use of "appropriate plant design," which means reintroducing plants native to the soil.  Such grasses, shrubs and plants have a history with the area, and are naturally adjusted to the climate.  They also have built-in defenses against local pests, eliminating the need for chemical pesticides.  Therefore, these will thrive more easily and require considerably less maintenance and water.
Hardscaping, another previously unfamiliar term, has come into play with more regularity in recent times.  Just leafing through any home and garden magazine these days demonstrates the increased popularity of stone patios, rock pathways and outdoor grilling areas.  These things aren't necessarily restricted to back yards any longer, either.  More and more of these features are making their way into the fronts of homes.
Another popular trend, sometimes referred to as Italian-style, is the practice of growing a variety of vegetables in terra cotta pots situated in picturesque arrangements around both front and back yards.  This serves both a practical and aesthetic purpose:  Prior to bearing fruit, the plants will produce blossoms.  The flowers and later the vegetables themselves provide a scenic touch.  Additionally, it can be easier to keep wildlife out of the vegetable patch when it is contained in pots.
If you are contemplating a new landscaping trend or garden design, these are some elements to take into consideration.  How much time will you have to dedicate to your lawn and garden?  And if your own time is limited, do you have the finances to engage a professional lawn maintenance service to take over the job?  What kind of water restrictions are you looking at in your neighborhood?  Finally, what are your own aesthetic preferences?  Do you like looking out your window at a green, rolling lawn, or does the idea of a less traditional-looking yard hold more appeal?
Once you have the answers to questions like these, you will have a much better idea on how to proceed with your landscaping project.  Perhaps it's a task you look forward to undertaking yourself, but if not, know that the craftsmen at your local Handyman Matters office are more than willing to assist with whatever garden or home renovation jobs need doing at your place.  Call 1(800)FIX-MY-HOME to schedule a visit or arrange for an estimate today.